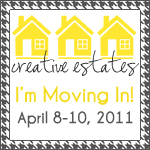 This time next week I'll be at Creative Estates!!! Woo hoo!!! Bring on the party!  I've been having some issues while gearing up for the big conference. See if you can relate…
And you heard my video self correctly! I'll be tweeting live at Creative Estates all weekend long so be sure to follow me on Twitter @iheartBCD to get the up to date dish on all things CE!!!
You can also follow @CreativeEstates on twitter!
So are you ready or what!!!