If love had a taste it would taste like this!
Ooey Gooey Yummy warm cinnamon rolls!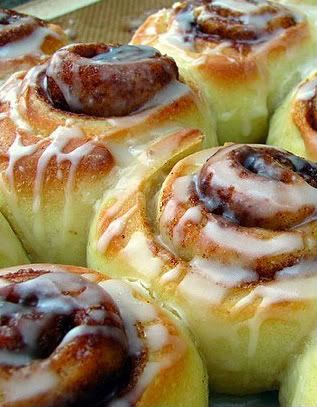 Stop licking the monitor!!! You too can create these little lovelies!
I've been blessed with some amazing things in my life! Health, an incredible family, the ability to color my own hair and out of this world friends who know how to work magic in the kitchen!
Last year I scored big at our Church Service auction!! A one on one lesson on how to make these drool inducers! My friend Debbie, a.k.a. Kitchen Goddess, is an Incredible cook! She not only taught me how to make cinnamon rolls she taught me how to
impress my family, spontaneously make my husband give me back massages for sweet treats and up my status as a wonderful neighbor! In other words… If you really want to impress someone all you need to do is bake these!
Shall we jump in!
Debbie's Sweet Rolls!
1/2 cup warm water ( like baby's bottle)
4 1/2 tsp. yeast
Put yeast and water in a small bowl together and set aside.
1/2 cup sugar
2 teaspoon salt
1/2 cup shortening
2 eggs
Mix sugar, salt, shortening and egg in large bowl at med. speed.
Add

1 1/2

cups warm milk and mix well.

Add

3

cups of Flour and mix well.

Add Yeast mixture and mix one more time.

Add

2

cups Flour.


( If you are using a Kitchen Aid switch from a beater attachment to your dough hook.)

Add small amounts of Flour at a time until it just barely sticks to the side of the bowl.

Let rise in bowl until it doubles in size. About 45-60 minutes.
Place dough on floured surface and punch down.
Roll out dough into a rectangular shape that is 1/2 inch tick.
Brush dough with melted butter.
Spread generous amounts of Cinnamon sugar on.
Roll up and slice with thread. about 1 – 1 1/2 thick.
Placed on greased cookie sheet and let rise until doubled.
Preheat oven to 350 and bake for 10-20 minutes or until light golden brown.
Remove and let cool!
And don't think the goodness stops there!! Oh no my friends! As hard as it is going to be not to burn our tongues, let's practice patience and whip up some of Debbie's Cream
Cheese Frosting shall we…
Cream Cheese Frosting!
1/4 cup Butter
1/4 cup Cream Cheese
Soften and mix together then add:
2 1/2 cups powdered sugar
1 teaspoon Vanilla
1-2 teaspoon milk
Mix until smooth and frost!
No joke theses are the best! I mean the best! If you have ever been intimidated to make such a treat now's the time to give it a try! This recipe is crowd please!
Thanks Debbie for a. allowing me to share this amazing recipe and b. being an even more amazing friend!!! Love ya!
No get baking people! And save me one would 'ya!
( sorry for the HUGE type at the end! Blogger hates me sometimes!)