I can't tell you how excited I am to get all my Fall Decorations up! Each year when I unpack my decorations I'm as excited as a kid on Christmas morning!
Every year I add to my collection! This year I created this fun Fall Garland!
Super Easy and Super Cheap!
First I had to work my magic on a set of Crape Paper Leaves I picked up at the Dollar Store!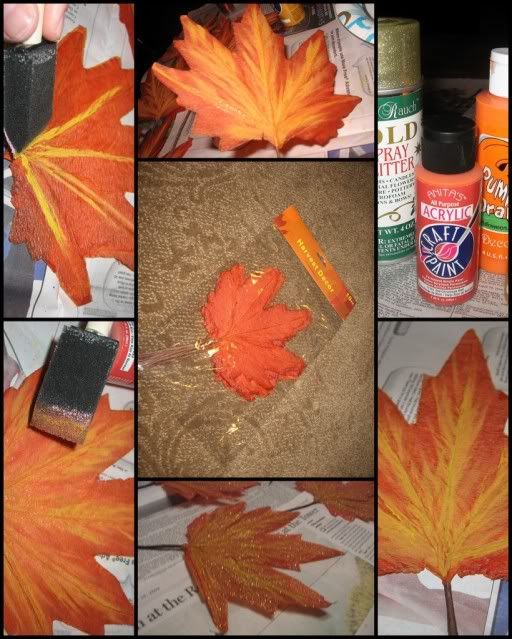 These sweet little reminders of Autumn were a wee bit boring and plain for my taste but you couldn't beat the price! A ten pack for $1!!!SCORE!
I spruced them up by painting on a burnt yellow color and making them look more veiny. I added a few more shades of Autumn hues and sprayed on some Gold Glitter!
Now these puppies are ready to be hung!
I attached 6 leaves to a swagged piece of ribbon!
I used two pieces of fabric ( about 1/4 of a yard each) and cut them into approximately 1″ x 9″ strips.
Alternating the fabric, I tied then onto the ribbon!
And that'll do it folks!
Be on the look out for Part Two of my Mantle Makeover!!!