I'm throwing a "Falling" for Fall Party here on
Blue Cricket Design!!!
What!What!!
Everyone's invited!
Add your links to our "Falling for Fall" links list and show off your best:
Fall Decor
Halloween Projects
Pumpkin Carving Results
Yummy Fall recipes
Or anything Fall related!
Be sure to add the exact post link and not just a link to your blog! Leave us a comment in the comments section giving us a brief tease to draw us in!!! We all love a good tease!
Grab the "Falling" for Fall Button and post it on your blog! Invite others to Participate! You know you're going to find some amazing ideas and inspiration!
If I see something I absolutely LOVE I may even give it it's own special post here on BCD in an upcoming "Readers ROCK!" post! That's where I gush over my rad readers who know how to work their own magic and bust out awesome projects themselves!
Ok my lovelies! Here's the button to grab….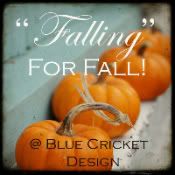 Get Linkin'!!!
and "It's Fall y'all" over at THIS fun blog, Southern Hospitality!!! Check 'em out as well!