This is what would greet you if you popped in on me! A welcoming front door that has been freshly painted red, a substitute "wreath" and cheerful chalk board!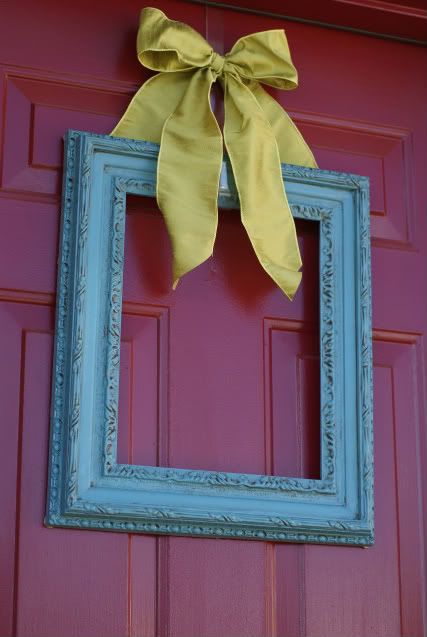 This little beauty I picked up at DI. It's a Plastic Resin frame so super light weight and ideal for hanging in lieu of a traditional wreath!!! It was only $1.50!!!!! A little spray paint and Raulph Lauren Tobacco Glaze later…Bada BING bada BANG!!!! The perfect door adornment!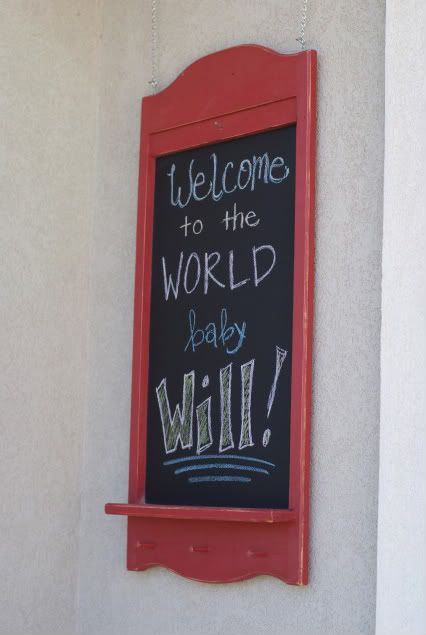 I absolutely love my Chalk Board!!!! The perfect way to spread a little cheer! I have already had neighbors call to tell me it stops them in their tracks as they drive by!!! They can't wait to see what greetings I'll post next!!!
I also picked this little guy up at DI, our local Thrift Store! It originally was a Calendar Display. I paid $3 for it and added the spray on Chalk Board paint. I hung it with small chain and hooks and called it good!!! I LOVE IT!!! I LOVE IT!! I LOVE IT!!! Perfect for Birthday wished, welcoming guests and happy sayings!
So riddle me this… what should I write on my board!?! Send me your favorite greetings, quotes or sayings and ideas!!! I'd love to write them and share them with my neighbors!!!
Today's greeting welcomes home our newest neighbor!!!Baby WILL!!!CAn you feel the love!?!