Look what I created!!!!
This was born out of absolute frustration and Insanity prevention ! Last week while shopping, I was so fed up with losing my coupons, having to pry the slobbery remains of a coupon out of my baby's mouth and simply not having enough hands while I shop! My shopping
excursions are a mess!!!! If you were ever to see me shopping with three kids in tow you'd most likely find two out of three of 'em crying and the other covered in chocolate chip bribery!
Well…

Problem solved!!!!
(at least the coupon part of my problem! Let me know if you have a wonder
solution for the kid melt downs!)
I came home to create this Coupon Catch all for my Shopping cart!
It has two pockets! One to hold my Coupon Organizer and one to store the coupons I will be redeeming! And if you're not a coupon shopper it's the perfect little helper to hold
your bottled water, emergency candy bar you opened 15 min. into your visit and cell phone while you graze aisle after aisle!
Aren't they A-DOR-A- BLE!!!!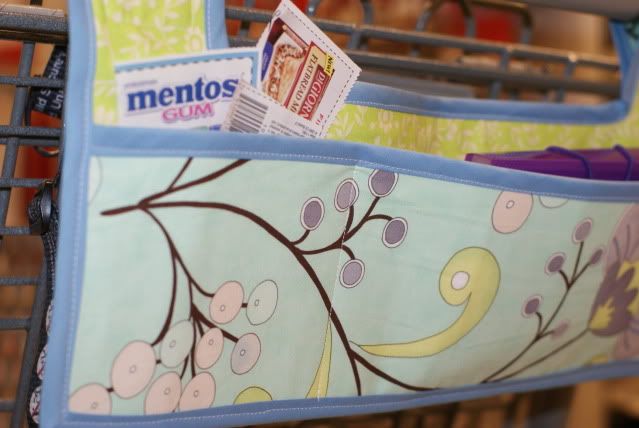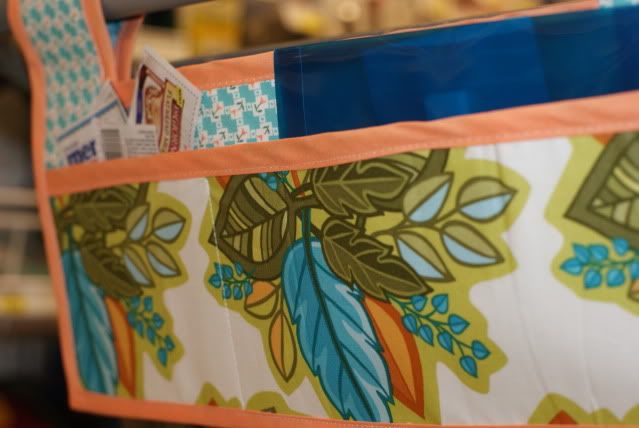 And Lucky you I'm in a giving mood!!!! Enter to win one of these Cart Caddy Coupon thing-a-ma-bobs!I'm giving away BOTH of them so there will be two winners!
Here's how to win!!!
Leave me a comment telling me which one you'd love to find in your mailbox! Blue/ Green Caddy or Orange Flowers! If you win I'll try my best to accommodate!
Become a follower of this blog or tell me you already are a smart cookie and ALREADY follow Blue Cricket!
Make a post about this giveaway on your bloggy blog!
Three chances to win!!! Make One comment for each entry! It makes it easier for me when I use random.org to pick my winners!!!
So enter now and cross your fingers! I'll be posting the winners Aug. 26th!!!!
Happier shopping awaits!
Sorry for the huge script! Blogger is wacko today! And thanks happy shopping friend who allowed me to invade her produce hunt in Smiths today!!!