This awesome stuff ain't just for Pork Chops People!!!! Reynolds Freezer Paper is a wonder product when it comes to making stencils! It's also great for Quilting applique…who knew!!!
The instructions are simply stated on the box…
"Make non-stick stencils. Temporarily adhere the plastic side to fabric with a hot, dry iron. Peel off stencil when paint dries."
Sounds easy enough! Boy is it ever! I think I'm in love!!!!
Here's my go at creating a stencil using Freezer Paper! For this project
I will be making silhouettes.
First Chose an image you would like to trace. I took profile photos of my girls and printed them off. You could trace a photo from a book, use clip art or print an image from on line.
Next either cut out your image to place on top of the freezer paper or place your image under the freezer paper to trace.
Place the freezer paper plastic side down and trace.
cut out your image with an exacto knife or scissors.
Once the image is cut out place the stencil onto your fabric surface
and iron it on to adhere it in place.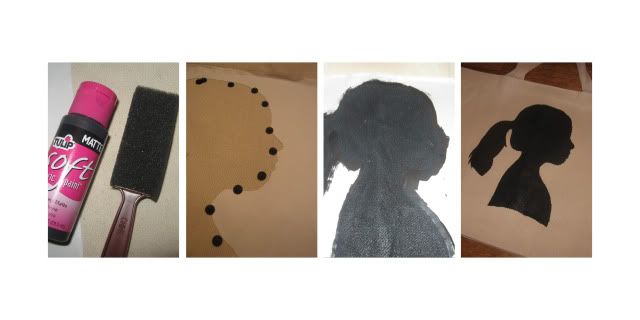 Use fabric paint and a foam brush.
Apply fabric paint
Brush on the paint and be sure to cover the open space completely paying close attention to the edges.
Remove stencil and allow for the paint to fully dry…about 1 hour.