For the last few days I couldn't help but notice my fresh strawberries and blueberries feeling a little lonely in the fridge! They begged for a play date with something soft and cool. How could I deny them!!!
Solution!!! A little raundevue with a slice of Angel Food cake and a HUGE Dollop of Cool Whip!
I grew up eating this heavenly treat and I can blame my mom for the addiction! I had never tried my hand at making one from scratch but the idea of "True Homemade" AFC was almost too much of a challenge to not take!
Here we go!
Here's what you'll need:
*2 cups sifted superfine sugar, divided
1 1/3 cups sifted cake flour (not self-rising)
1 1/2 cups egg whites, at room temperature (10 to 12 eggs)
3/4 teaspoon salt
1 1/2 teaspoons cream of tartar
1 teaspoon pure vanilla extract
* To turn regular granulated sugar into super fine sugar just add it to a small food processor and grind for a minute or so until it's SUPER FINE!
Preheat the oven to 350 degrees F.
Combine 1/2 cup of sugar with the flour and sift together 4 times. Set aside.
Place the egg whites, salt, and cream of tartar in the bowl of an electric mixer fitted with a whisk attachment and beat on high speed until the eggs make medium-firm peaks, about 1 minute. With the mixer on medium speed, add the remaining 1 1/2 cups of sugar by sprinkling it over the beaten egg whites. Whisk for a few minutes until thick and shiny. Whisk in the vanilla and continue to whisk until very thick, about 1 more minute. Sift about 1/4 of the flour mixture over the egg whites and fold it into the batter with a rubber spatula. Continue adding the flour by fourths by sifting and folding until it's all incorporated.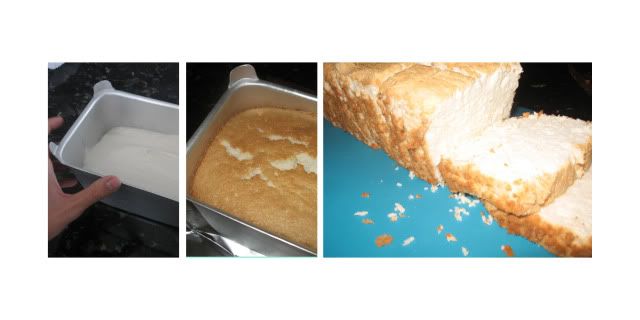 Pour the batter into an ungreased 10-inch tube pan, smooth the top, and bake it for 35 to 40 minutes, until it springs back to the touch. I use a long loaf pan made for Angel Food cake baking!! Thanks mom!!!!Remove the cake from the oven and invert the pan on a cooling rack until cool.
Add the fruit and cool whip and there you have the perfect play date !!!
Thanks Ina Garten from the FOOD NETWORK for her recipe. Hers called for lemon zest but I opted not to be zesty this time around!
And yeah… I ate it for breakfast this morning!!! AFC has a very short shelf life in this house! It's gone like Donkey Kong!!!