These adorable felt flowers are so easy to make and the possibilities are endless! Make them big or small! Create a perfect accessory!
Boiled wool a.k.a. FELT! But be sure to get high quality wool! Not the sheet you can pick up for 50 cents at a craft store! You'll want the good stuff from a fabric store!
colored thread and needle
embellishments like buttons, gems, glitter dots and what ever else your creative mind can come up with!
glue gun and glue sticks
scissors
3×5 card for pattern making
alligator clip, headband, pin… to attach the flower to when done!
Let's get Started!

First take a 3×5 card and free hand a similar shape for the petal. I think it looks like a happy molar! hehe!
trace 5 petals on your piece of felt.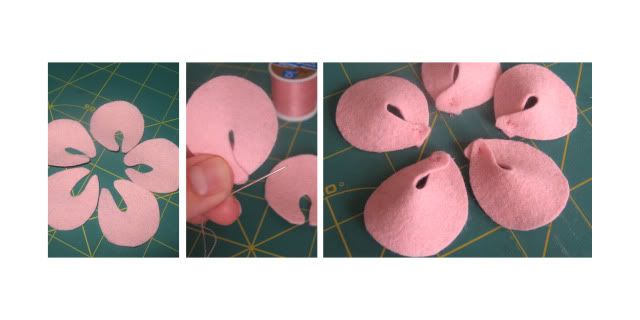 Cut those 5 petals out being sure to cut inside your pen park so it doesn't show up on the cut out pieces.
once you have all 5 cut out you will now take each one and sew the two little feet together, over lapping them in order to create a little pucker.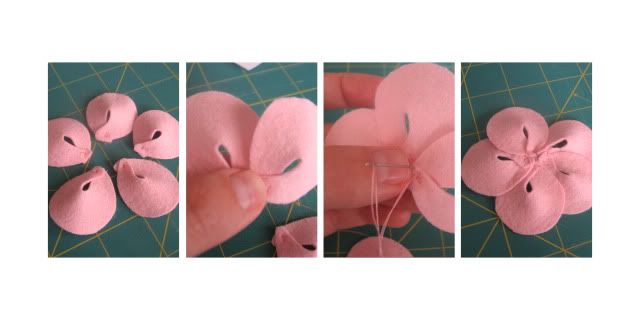 Take each completed petal, one at a time, and slightly over lap it on to another petal.
sew them together close to the bottom so they are now attached.
continue adding and sewing each petal 'till you have a fully assembled flower.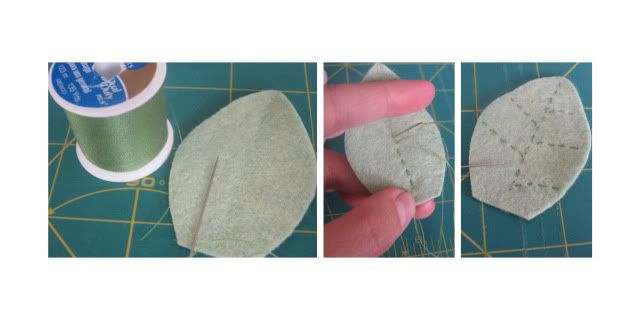 take a small piece of green felt and fold in half and cut out a leaf shape.
using green thread, add a simple stitch by hand to create the veins on leaves.
Take the "oh so adorable" finished leaf and glue gun it to the back of the flower.
Here I used two buttons stacked on top of each other.
hand stitch them together
Hot glue the button stack on to the center of the flower.
Attach your finished flowers to headbands, clippies, and pins to adorn a shirt. they would also look great on a purse, journal or anything else that needs a little charm!